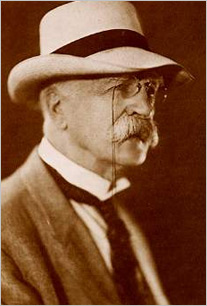 George Keller, the architect who designed the Soldiers and Sailors Memorial Arch, came to Hartford in 1865 when he was 22 years old to design cemetery monuments for James G. Batterson, the man who founded Travelers Insurance Company. The consummate entrepreneur, Batterson owned a construction company and a marble quarry in addition to his insurance interests.
Keller was born on December 15, 1842, in Cork, Ireland, where his father owned a wallpaper factory. When the potato famine hit Ireland, the Kellers decided to move to the United States; however, eight-year-old George and one of his brothers were left behind and sent to live with separate sets of relatives until their father could save enough money to pay for their tickets to America. Finally, after two years of being apart, money came from the states and the boys were put on a ship for the month-long sail to New York. It was 1853 and George was 10.
Apparently, he always wanted to be an architect, for he never mentioned having any other occupation in his memoirs, which were late in life. He moved to Washington, D.C., when he was 16 to work for the architect Charles F. Anderson, who designed the Senate and House wings on the National Capitol.
After about a year in Washington, he was hired by the Brooklyn Navy Yard to design buildings necessary for the Civil War effort. Meanwhile, his parents were struggling to make ends meet. Keller writes that during this time he handed most of his salary over to his mother, keeping very little to live on.
When he was 22, J. G. Batterson, persuaded him to come to Hartford to work in his firm designing cemetery memorials for Hartford's "rich and famous"–including J. P. Morgan. Most of his memorials were done for graves in Cedar Hill Cemetery located in the south end of Hartford on the Wethersfield border, near the intersection of Maple and Fairfield Avenues. (Note: this beautiful cemetery was designed by Jacob Weidenmann, the same man who designed Bushnell Park.)
Keller lived in Hartford for more than 71 years, dying at age 93 in 1935. He designed hundreds of structures, not only in Hartford, but all around the country, during his long career. His work includes office buildings, churches, schools, hospitals, libraries, bridges, houses and monuments.
His work in Hartford includes, the Charter Oak Cultural Center, Columbia Street and Park Terrace Row Houses, the Asylum Ave. Baptist Church, and (now torn down) the Seyms Street Jail and the old Hartford Public High School Building. In addition, he originated the design–unique for its time–of Union Station, with its elevated tracks and the waiting area set off to the side to reduce noise from the arriving and departing trains.
He and his wife Mary lived at 24 Park Terrace in a house he designed. They had three children, a girl and two boys, and several grand children. He was a very proud man, who, despite spending his early career working in cemeteries, and designing elaborate grave markers, "had a horror of cemeteries," as one of his children wrote. As a result, he asked to be buried in one of his favorite monuments, the Soldiers and Sailors Memorial Arch. So, when he died at age 93, he was cremated and his ashes were placed behind a plaque in interior wall of the east tower. Mary, apparently thought this was such a good idea that she decided to follow his example. So, when she died in 1946, her ashes were placed beside those of her husband in the Arch.
David Ransom, who wrote a book about Keller and his work, commented "…using a powerful Gothic idiom, he designed picturesque and simple buildings. With a literate style, with verve, with a use of honest materials, with a determination that form followed function, Keller avoided sham, pretense and the siren call of the classic revival."