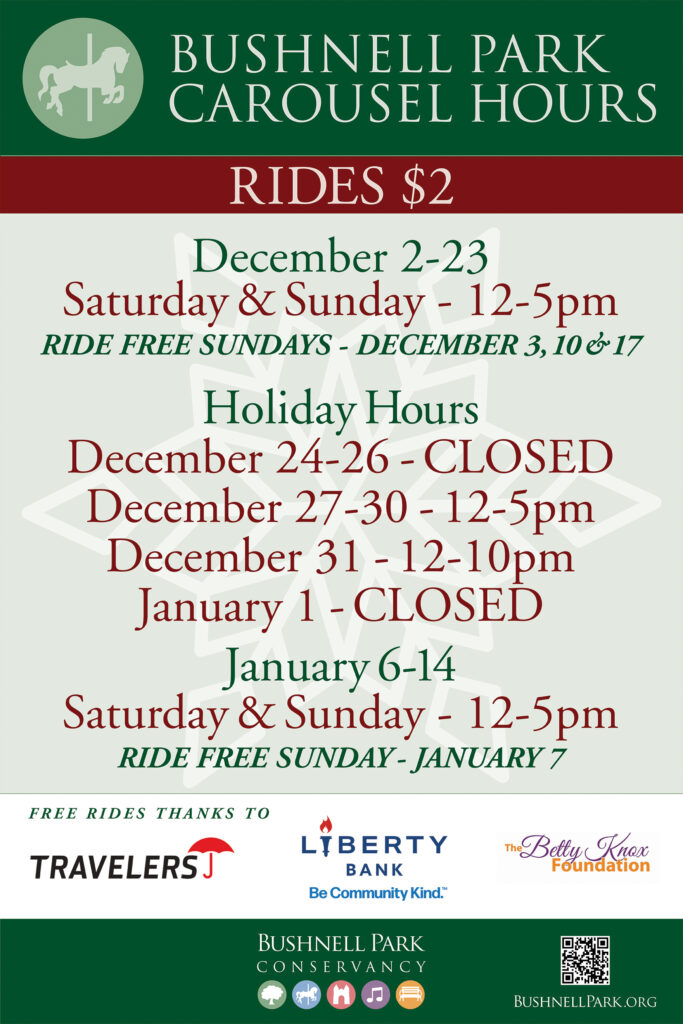 Please note we never close for private events during our posted public hours.
It's a sweet surprise to find a vintage 1914 carousel standing in Bushnell Park. There, by the shadow of skyscrapers and a giant Turkey Oak, a 24-sided pavilion houses 48 hand-carved wooden horses and two lovers' chariots that swirl around a booming Wurlitzer band organ.
The Knox Foundation brought the carousel to Hartford from Canton, Ohio, in 1974. Jack Dollard, director of the Foundation at the time, and an architect in the city, thought the horses would symbolize Hartford's restoration.
The New England Carousel Museum in Bristol restored the horses to reflect the same fury that Russian immigrants Solomon Stein and Harry Goldstein first carved into their faces in 1914. Mass production and changing tastes led to the demise of hand carving and now collectors, buying up single horses, have dismantled hundreds of carousels. As a result, this carousel is only one of three Stein and Goldstein carousels left in existence.
They, like many carousel craftsmen, started in Russia as carvers of women's combs. They came to the United States in the late 1800s to carve carousel horses for Coney Island, which, at the height of the craze, had some two-dozen carousels operating. Stein and Goldstein horses are distinguished by their flamboyance, their big teeth, bulging eyes, by the huge and colorful cabbage roses which festoon their bodies and their real horse hair tails.
Eventually, they built a reputation as "artistic carousel manufacturers" and they built carousels when there were at least 3,000 in the United States, when riders on the outside row dipped their index fingers for brass rings and a ride was considered a dare because 15 mph was faster than anything. The invention of the roller coaster gave carousels a more romantic reputation–and fewer riders.
Every year thousands of riders take the dare and go for the thrill of riding on Hartford's magnificent and historic Stein and Goldstein carousel.
Carousel Memories – The Paintings of Ellen Sinclair
Read here about the Paintings of Ellen Sinclair that were recently gifted to the Bushnell Park Carousel