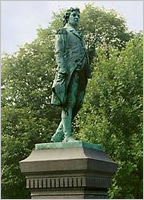 Israel Putnam, the legendary general of the French and Indian and Revolutionary Wars, is considered Connecticut's first authentic folk hero. Putnam was born in Salem, Massachusetts, in 1718. An outdoorsman from childhood, he moved to Pomfret in 1739 to establish a farm. In 1755, Putnam was commissioned as a Lieutenant in the Connecticut militia for the duration of the French and Indian War. His career included single handedly saving Fort Edwards in West Virginia from being blown up when its magazine of 300 barrels of gunpowder caught fire, capturing a French warship with just a hammer and a few boards by wedging them between the ship's rudder and hull, as well as nearly being burnt at the stake when he was captured by the Caughnawega Indians during a campaign in New York.
What many people may know about Putnam came with the outbreak of the Revolutionary War in 1775 when he was 57 years old. Upon word of hostilities in Concord and Lexington, it is said that Putnam left his plow in his field and rode a horse for 18 hours straight to Massachusetts. There he took command of the newly formed, untested militia and fought the British, inspiring his troops with the famous quote, "Don't fire until you see the whites of their eyes."
Stricken by stroke in 1779, he retired to his farm to live out the remainder of his life hosting a variety of veterans, friends, notables and hero-worshippers. He died May 29, 1790. His remains are buried in the base of a monument to him on the Brooklyn Town Green, formerly part of Pomfret.
Joseph Pratt Allyn, a local merchant, commissioned John Quincy Adams Ward to create the statue of Israel Putnam, wanting a historical figure identified with the state in Bushnell Park.  Ward was a preeminent sculptor in his day. His commissions include The Indian Hunter, bronze statue in Central Park, 1864; the Garfield Monument, bronze, Washington, D.C., 1887; and The Pediment on the New York Stock Exchange, marble, 1903. Ward also sculpted the allegorical figures that encircle the dome of the Connecticut State Capitol.
Ward was known for his painstaking research into likeness and attire. The Israel Putnam statue was the first of six Revolutionary War memorials he executed, and his first commission after a key trip to Europe in 1872. In Ward's rendering of Putnam taking a step forward, he is no longer a static figure but a candid portrayal of a fleeting moment as the general strides forth, a sword under his arm. It is believed that Ward learned this technique in France, which gave his works a more natural, spontaneous character and heightened the realism of his sculpture. While a radical departure from his work in the post-Civil War period, this statue marks a new and important dimension in his work.
The statue was dedicated in June 1874.
Note: Dr. Horace Bushnell, the "father" of Bushnell Park, attended the dedication of the statue in June 1874. He was told that Hartford citizens were certain to want a statue of him, too. "Where would you like it to be?" a friend asked. Dr. Bushnell looked all around and, pointing with his cane, quipped, "Down under the bridge yonder!" To this day, there is no statue or monument in the park in memory of Horace Bushnell.