Bushnell Park
In 1854 Horace Bushnell envisioned the Park as an urban green space where all the city's residents could meet on common ground.   Bushnell Park, the oldest public park in the United States and one of Hartford's finest treasures, is comprised of 37 green acres, and is adorned with artwork, sculptures, and play areas.   The Park is listed on the National Register of Historic Places and is recognized for its historic artwork as well as its arboretum of over 700  trees, many considered champion trees.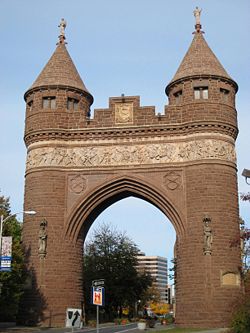 About the Bushnell Park Foundation
In 1981, citizens concerned about how seriously distressed the Park's landscape and landmark sculptures had become, formed the Bushnell Park Foundation.
The Bushnell Park Foundation has served for more than thirty years as the prime advocate for the conservation and restoration of Hartford's historic  "central park." With a committed volunteer Board of Directors and a small annual operating budget of about $125,000 the Foundation has raised more than $9 million in capital restoration funds for the Park. We have restored the Soldiers and Sailors Memorial Arch, renovated the Park entrances, built the Performance Pavilion and Pump House Gallery, added new landscaping, lighting, and benches, and built the play area. We restored the Horace Wells Monument and the historic Corning Fountain sculptures, and its Victorian garden.
More than one million people visit Bushnell Park each year,  including visitors to the 100 public events, the historic Carousel, and art exhibitions at the Pump House Gallery, as well as hundreds of children,  city residents and Hartford business workers who walk, run, bicycle, and simply rest in the Park.